What ho, fair weathered friends!
Edinburgh has over the last few days been rain-free and with a steadily climbing temperature… well, as much as temperatures can climb here, anyway! Today's high was a whopping 9°C (48°F), and Saturday predicted at 11°C (52°F)! Positively tropical!!
First off I mustered up my energy and my courage and cycled my way down to a visit to the optometrist. Having living in Edinburgh for going on two and a half years, my last eye visit was at least 4 or 5 years ago in Murfreesboro. Couple that with my perusal of the RNIB volunteer leaflets regarding the different forms of sight loss, and I started to think it was mighty hypocritical of myself to be volunteering while also neglecting to keep tabs on my own vision.
However… I really don't like going to the eye doctor. I've always found myself absurdly sensitive to bright lights, and them shining brilliant flashes in my eyes causes me to wince, shudder, and tense up, watery eyes flying all over the place. Ooh! It makes me nervous just thinking about it.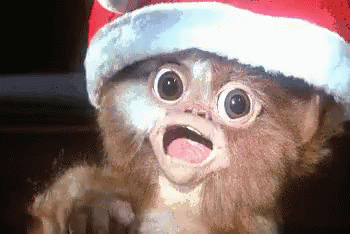 I totally feel your pain, Gizmo.
However luckily for me my optometrist was a really sweet, supremely patient angelic being. She explained to me what she was doing and even was kind enough to send me a photo of my eyeball after at my request (hey, it's cool innit?! that's the inside of my eye!). Even better, when I was done I just strolled out. No payment necessary–thank you, NHS!–and no hassling to get a new overpriced set of frames or contact prescription.
Needless to say that place has two thumbs up from this girl. And two thumbs up to the NHS which takes care of its own–a fact that to this day I still regard warily, waiting for my secret bills to show up in the mail.
Afterwards I was heading back via bike along the Union Canal, when I saw that the wee canal boat called Counter was open for business selling coffees and pastries. I can't resist a good flat white, especially when it's served from a boat, and didn't I deserve a treat after my poor eyeballs' poking and prodding?
So I got my coffee from the nice chap inside the boat and sat down in some chairs alongside, observing all the wee dogs, their people, and cyclists coming and going. Eventually in a quiet moment the barista and I struck up a conversation. Before I knew it we were discussing life, jobs, family, where we were from, all sorts. Turns out his name was Craig and he was from Australia, although his accent was quite hidden as he'd lived for many years in London.
Even better, he was nice enough to let me snap his photo. Seriously. What a good lad. I left thinking just how nice it is to have a conversation with a friendly stranger sometimes.
What followed in my highly caffeinated state was a cycle all round the shops nearby our flat in a search for half-price Valentine's Day chocolates.
I FOUND NOTHING.
Seriously folks, what the actual heck?! Even as I traipsed in at around 11 they were packing away the last of the cards. Chocolates were nowhere to be seen, already taken over by more Easter candies. Even after checking several other nearby shops–Aldi, M&S, and Poundsavers–nada.
Cue heartbroken Rissa. Shake my head, guys. I am disappoint.
Later that evening I made some dinner and shuttled off to weekly board games with some pals. We played game called Shadow Hunters which is just about as geeky as you can imagine; still good fun though. It's all about secret identities and special win conditions; mine, as a Neutral character, was to just stay alive until someone else (a Hunter or a Shadow) character won, thereby allowing me to share the win as well. I should have played it cool, and not been too aggressive. However eventually I got my hands on a rather bloodthirsty attack card, and well, sort of got on everyone's radar pretty quickly after that … whoops!!
At least I wasn't the first one out eh??